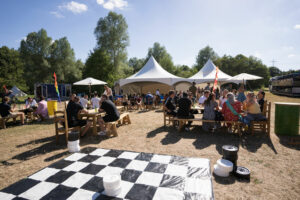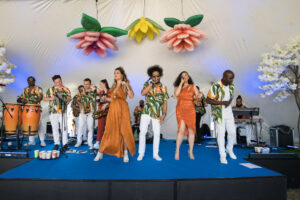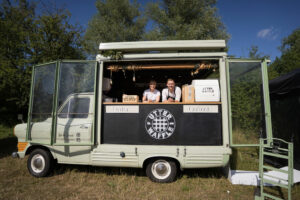 This summer has seen the rise of bespoke outdoor festivals as a popular choice for corporate companies – outdoor space, plenty of activities, live bands, great street food, chill-out zones, team-building. It has been a perfect combination post covid to thank and reward staff for their hard work.
We have had the pleasure of sourcing unique and memorable farms, land, and estates no more than 1 hour from London some of which are new to the corporate scene and most of which are changing their venues to suit this rising trend.
One of our favourites was a day teambuilding and evening party at Chalkney Water Meadows for 500 employees; a beautiful farm and lake set 15 mins from Colchester and only 1 hour by train to Liverpool Street.
A two-day set up was needed to install the infrastructure; toilets, marquees, generators, electricity, showers, bell tents and dressing, but this is the part of the event we love – seeing all of the months of planning come to life!
Blessed with the weather, guests took the scenic walk around the lake which opened into a tree-lined field, sipping mocktails and enjoying a well-deserved catch-up!
The afternoon was led by GOTO Events and centered around four fun zones covering speed, logistics and creativity, as they battled it out to win Wacky Races, School Sports Day, Hungry Hippos, Archery, and Battle Axe Throwing.
Once the compare had announced the winning team, guests were able to use the designated changing areas or showers to refresh for the evening party!
An impressive selection of drinks were on offer and Kerb provided a vast array of excellent street food. Many chilled out on the deck chairs and bean bags watching colleagues battle it out on 90's retro giant garden games. Some were still on a high from the team building and carried on their competitive nature with dodgems and the rodeo bull. The curious got to have their fortune told, whilst the majority (that had waited all year to party) put on their dancing shoes and partied to Earthlights 12 piece band before DJ Dre took over for the rest of the evening.
There was a real mix of décor as the event changed from day to evening – cherry trees, 2 metre inflatable flowers, LOADS of glitter balls and festival flags, and colour – lots and lots of colour!
Seeing 500 guests enjoy every element of an event is a joy for any event organiser and this was no exception, we are still so grateful for how these events can happen post covid. There is a shared un-spoken acknowledgment that we are better together, in person – and that nothing should be taken for granted.