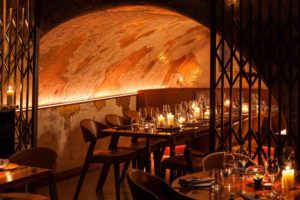 New intimate and discreet town-house style venue MNKY HSE Number 10 Dover Street, Mayfair London is now open for private bookings. MNKY HSE is split across two levels, an intimate and exclusive lounge bar (THE LNGE) on the ground floor, and the main restaurant (The HSE) that lurks beneath. Bold, eclectic, mysterious and sexy, it has an edge design style and two distinct moods. Attention to detail is the key in adding layers and depth to our design scheme. A vibe dining concept built around a Latin American inspired restaurant and bar, bridging the gap between casual, high-end dinning and late-night entertainment in a multi-sensory setting. MNKY HSE mixes the very best Latin American food with experimental cocktails, served up by a hand-picked team of up-beat characters. Our inspiration is vibrant and energetic with an edgy and sophisticated spirit.
                                                                  MNKY HSE is a stylish restaurant and bar, serving high quality contemporary Latin American cuisine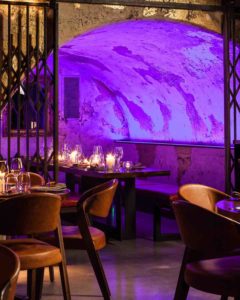 alongside regular live music and DJ performances. The restaurant is led by Chef Mark Morrans whose considerable talents have also been put to great use at the likes of Kurobuta, Wabi and Nobu as well as Michelin starred Nahm. Mark has created an experimental array of colorful Latin American dishes that are designed to share, surprise and delight. The restaurant has a capacity of 350 standing and approximately 130 seated, in addition to the main dinning area the restaurant also boasts 3 large vaults perfect for large group dinners for up to 18 people.
The MNKY LNGE is available for exclusive hire from Monday to Saturday from 10:00am until 03:30am and Sunday 10am until midnight, with a seating capacity of 40-60 and standing capacity of 100. With its own front entrance, large bar, state of the art sound system, DJ booth [Vinyl/ CDJ], moveable seating the space is perfect for: – Celebratory lunches/dinners – Cocktail events, Client and Team Meetings – Product and Brand Showcases – PR Launches / Corporate Events – Informal Networking Events – Parties.
Call the Eventspiration team on 0207 993 5478 for more details and to book.