This week we are talking all things GREEN!
Food waste, excessive energy use and non-recyclable refuse are just some of the factors that we're acutely aware of when we're planning large-capacity events.  With the continued global crisis of climate change still peaking, in the events community we are trying take responsibility where we can and implement small but effective changes.
We are proud to say we are updated daily by forward-thinking suppliers who are leading the way to more sustainable models of venue management, catering and production.
Bringing ideas like this together means we can still produce world-class face-to-face experiences but with a consicious shift towards a reduction in impact to the planet.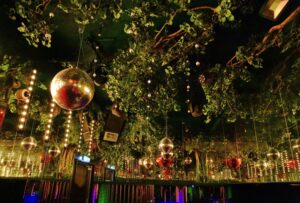 RESPONSIBLE VENUES
1. WYLD by NATURE
Leading the way with their eco-sustainable club model.
Off-setting their carbon footprint, funding global reforestation, removing single use plastic, wildlife charity sponsorship and supporting international drinks brands that are giving something back to the community are just a few of the ways they're hoping to empower change in the hospitality sector.
Nearest Tube: Hyde Park Corner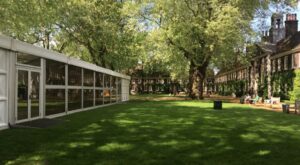 2. SHOREDITCH GARDENS
Supporting charties that bring change to the area.
In 2023 Shoreditch Gardens are partnering with Hackney Foodbank to highlight the importance of Food Dignity which honours everyone's right to healthy food.  So every booking at the venue this year will contribute to the 'Hunger for Change' campaign that supports this amazing cause.
Nearest Tube: Hoxton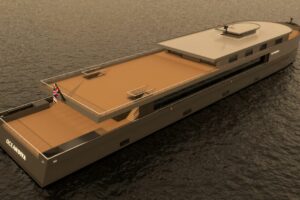 3. OCEAN DIVA
The first CO2 neutral event venue on the River Thames
Spanning across three decks this unique blank canvas venue has the technology to track and measure the carbon impact of each event held onboard therefore determining where any carbon emission reductions can be made across the life-cycle of an event; from sourcing, energy used, food and beverage choices to audience travel.  An annual measure of these emissions is then balanced with tree-planting and the purchase of carbon units via the Woodland Carbon Code.
London Bridge, Tower Bridge, Canary Wharf, Greenwich & ExCel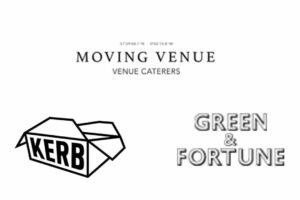 CONSCIOUS CATERING
As this week is FOOD WASTE ACTION WEEK (March 6 – 12) it feels only right to shine a light on some of our favourite caterers who are bringing in new processes that enable our clients to wrap their organisations' core environmental values into the event plans.
GREEN & FORTUNE have launched new menus that champion sustainable food planning.  Going beyond the norms of 'local and seasonal' they've created menus that endeavour to protect ecosystems, use imperfect and surplus produce, as well as the entirety of the foodstuff. The menus will change regularly to reflect seasonal harvests or abundance in ingredients.
MOVING VENUE believe 'good environmental practice is also good economic practice' and we couldn't agree more.  They are courageously working towards becoming carbon neutral by 2030 and net zero by 2050 with their policies to reduce, measure and offset.
KERB launched their Streets Ahead campaign last year in partnership with food gian McCain and it is continuing to change lives and build futures.  They offer unique start-up workshops for free to less-advantaged people enabling them to become one of Kerb's next widely successful street food traders!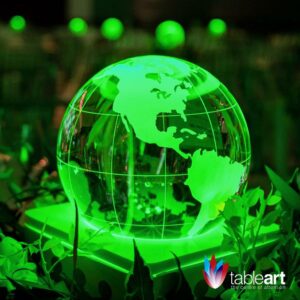 THEMING + DECOR
1. TABLE ART
Working on their aim to REDUCE, REUSE, RECYCLE, REPAIR & RETHINK.
Providers of state of the art centrepieces and props that work in a smarter way for events by packing down into small, easily transportable cases meaning they can fit a staggering 200 of their centrepieces into 1 van AND their thoughtfully packed items suffer less damage so they've dramatically reduced waste as well – brilliant!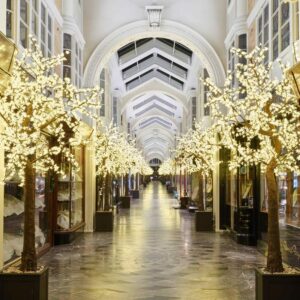 1. TWILIGHT TREES
A Carbon Neutral company supplying beautiful, reusable, LED trees for hire.
With the 'hire' business model being traditionally low in waste they had a great starting point but it's their efforts to ensure that the miles they drive, the vehicles they use, the trees they're able to plant, the sustainability of the wood they use and right down to the way their staff get to the office that truly raise the bar of this inspiring business.
Get in touch HERE or give us a call on 020 7993 5478 to discuss how our FREE VENUE FINDING SERVICE and our SUSTAINABLY MINDED SUPPLIER PARTNERS can add value to your event as we give you the tools, time and knowledge you need to get the very best out of your budget.